About Us
Meet the McConnells
Pretty Simple Web Design is made up of husband and wife team John and Meg McConnell who recently moved from the beaches of Charleston, SC to the mountains of Colorado Springs. Together we make pretty, simple web sites for small businesses and nonprofits who are ready to make their mark on the world. Our aesthetic is clean and modern, and we want the process to be as painless as possible for our clients.
WHO WE ARE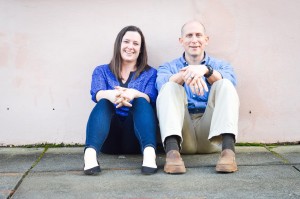 John and Meg have been collaborating and delivering web sites to clients for nearly a decade. John is an experienced web developer, and Meg is a graphic designer and technical writer. Together they get to know clients and work as a team to create user-friendly web sites that attract and engage customers.
Want to connect professionally? Reach out to John and Meg on LinkedIn!
WHO WE WORK WITH
We're pretty lucky. Over the last decade, we've had the good fortune to work with a lot of awesome people and organizations through our freelance and consulting work. Corporations, philanthropic organizations, mid-sized companies, higher ed institutions.
We love them all, but get especially pumped about the chance to partner with small businesses, solopreneurs, and nonprofits who are looking to get their ideas off the ground, who are ready to make their mark and do something amazing. We love the energy and excitement of helping these guys shine and do incredible work. Does this sound like you? Drop us a line to get started!